Kay went to the US Embassy in Beijing to extend her H-1B visa last December. Today, she finds herself stranded in China, thousands of miles away from her job in a tech company in the San Francisco Bay Area.
The visa officer gave her no definite answer while being interviewed, only a piece of paper called 221g, a form requiring her to submit additional info like a resume and job descriptions to the US government.
"I've already anticipated a 'check'. I never thought it would take this long," Kay told PingWest. She is increasingly distressed as the days go by.
The visa officer told her it would take three to four weeks for a final answer to be delivered. She had never anticipated the process would take this long.
The "check," as it is simply called by Chinese people sharing similar experiences with Kay, refers to the administrative processing of visa petitions, carried out by the US Citizenship and Immigration Services (USCIS), the agency which handles applications.
People know that they are being "checked" when they receive a 221g form from visa officers. This means that their visa applications have been flagged pending further action.
In many cases, if an H-1B visa holder is being checked while still in the US, and the current visa is expired, the holder is usually put on administrative leave without pay by their employer. For holders already outside the country, they may not be able to return to the US and continue to work legally, which comes with serious issues, including the risk of losing their jobs.
Kay has been employed on the West Coast for five years now, currently working as an engineer for a small computer chip startup in the Bay Area. Since realizing her way back to the US may not be easy this time, she has joined a few WeChat chat groups consisting of other Chinese nationals being "checked" as well.
Among them is Laura, who went to the same consular office in Beijing in the same month as Kay did. In an interview with PingWest, Laura said that her timing was mainly due to a rumor that the processing time for H-1B applicants was being extended. She came back to China early hoping that she would be able to return to her job in the US by February.
At least, that's what she had hoped for when the visa officer told her the waiting period could be as long as six weeks. In reality it has now been four months, and still counting.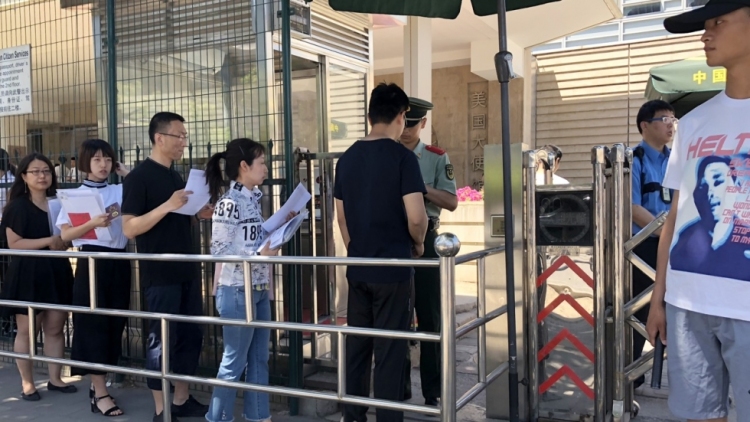 During these past four months, Laura has been working remotely during the night, and reaching out extensively for help.
She has made countless calls and written emails to the US Embassy in Beijing, only to receive automated replies. She also tried calling local Members of Congress for help, and even the Department of State directly for visa application status updates, but to no avail.
Based on interviews with a number of workers, it seems that professionals in jobs related to semiconductors, advanced materials, mechanical engineering, machine learning, robotics, and aerospace are some of those where Chinese H-1B holders and applicants are being scrutinized heavily.
Semiconductors, the industry that Kay specializes in, is among the hardest hit for visa scrutiny. Kay knows of more than 10 Chinese nationals who are unable to travel to the United States to get to their jobs at well-known chip companies such as Qualcomm, NVIDIA, Intel, and Marvell. Most of these visa applicants are not applying for the first time, but simply trying to extend their existing H-1B visas.
They have been forming chat groups aligned by their different industries. These chat groups can grow to host a few hundred people, and through them people share individual experiences, knowledge and status updates, and offer support for each other. Kay was surprised to find out that there are even gynecologists and obstetricians being checked.
Not only working professionals are affected. Those who've made a name for themselves in international academia have also found themselves being targeted.
Dr. Adi Shamir, an Association for Computing Machinery's Turing Award winner and one of the leading cryptographers in the world, is one of them. The professor from Israel's Weizmann Institute of Science was denied the chance to join this year's RSA, a top computer security conference named after him, due to his B1/B2 visa application being put into a longer-than-usual administrative processing period and ultimately denied. He waited for two months.
In a video clip sent to the conference, Shamir voiced his concern that the US government is becoming increasingly hostile towards highly-skilled talents.
Leo Wang agrees with Shamir's sentiment, and he sets blame for it on President Trump's policies.
Growing up with visions of "the American Dream," Wang, a Chinese national, went to the US four years ago and received a diploma from the University of Southern California. Seagate, one of the largest digital storage technology companies in the world, drafted him as a product/project manager immediately after his graduation.
The company filed an H-1B petition on Wang's behalf early 2018, while his Optional Practical Training or OPT, a form of temporary working permit for graduated foreign students, was still valid.
Wang's wait was significantly longer than other H-1B petitioners. It did not end after his OPT expired. Wang was put on administrative leave without pay. After that, the only thing he could rely on to survive in the high-priced Bay Area while attending a Master's Degree program from UC Berkeley was his very limited savings.
In the end, Wang could not make it. After Seagate gave notice of employment termination on New Year's Eve, the USCIS delivered the striking blow after a total of 14 months' wait: Wang's H-1B petition had been rejected.
The government agency had decided that Wang's position as a product/project manager did not meet the criterion of a job requiring an H-1B visa.
"It is President Trump's immigration policy that made more and more highly-trained, highly-skilled Chinese students have to leave this country," Wang says.
Reflecting on other H-1B visa holders' situations as well as his own, Wang thinks that when President Trump signed the Executive Order on Buy American and Hire American, the USCIS chose to act on its own interpretation of the policy.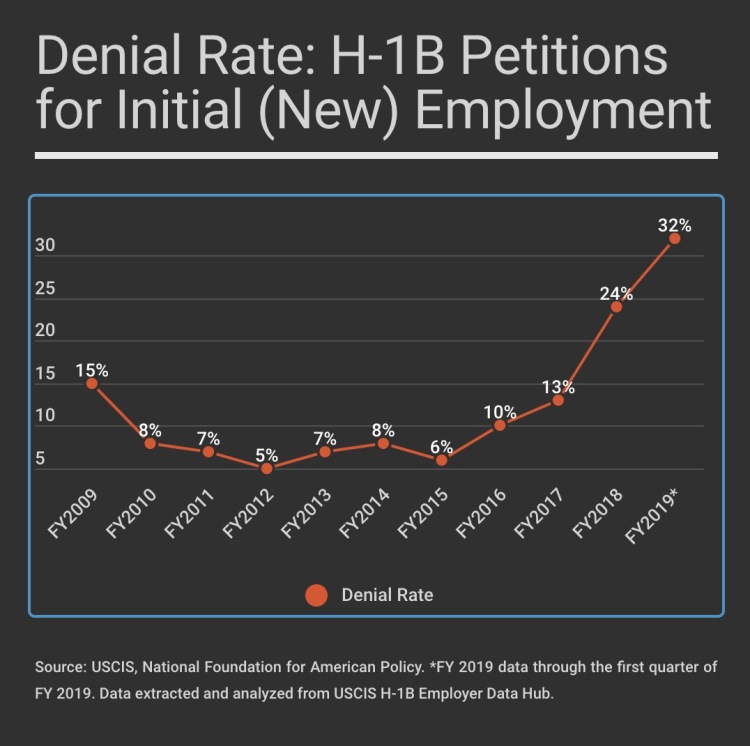 In Wang's case, the USCIS can claim that his job is not highly-skilled enough. For existing H-1B visa holders, the USCIS could discourage them by taking longer to conduct administrative processing or piling on requirements, potentially driving them out of the country.
Several chat group members Kay knows of were granted H-1B extensions by visa officers while being interviewed, but later on found out that the status of their applications was changed to "administrative processing" without notice. Unable to find out the reason, these people tend to think that superior officers in the consular chain of command may have intervened and ordered a re-check of their applications.
After his chance to stay and work in the US was taken away, Wang surrendered his tenancy at a small San Jose apartment, sold his car, dropped out of UC Berkeley, and went back to China, his personal American Dream shattered. "Nowadays, recruiters ask me all the time if I was laid off or did not perform well. I had to explain to them that I was forced to leave."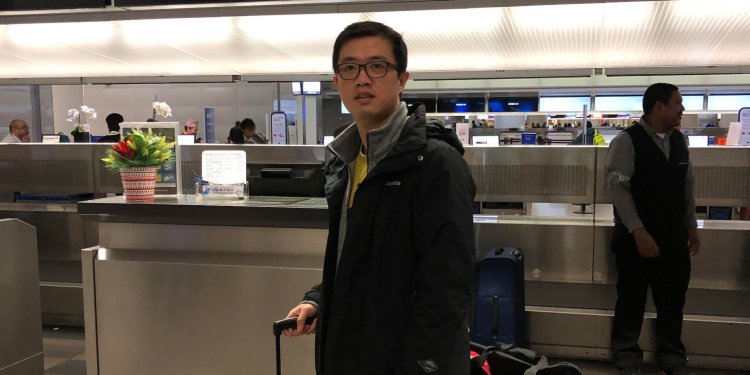 Laura got lucky, receiving her passport with a renewed H-1B visa four and a half month after her initial visa interview.
"While we are speaking, I am browsing plane tickets," she told PingWest. She had always thought that an H-1B extension would never be rejected, but after waiting so long, she admits she nearly broke down. "I was almost at the point where I would jump on a plane to Canada and get a Master's Degree [there]."
Meanwhile, Kay is still counting the days, which have become increasingly insufferable for her. She tried traveling to other countries to unwind, but only felt more distressed after returning to china. It has been almost five months for her now. The only official update she received during this period of time was a DS5535 form from the US government, asking for her residence and traveling records, as well as all of her social media accounts.
The project she has been leading at her startup had to be halted due to the fact that it would require on-site handling. Kay told PingWest that her superior is sympathetic but still very dissatisfied with the situation.
"Boss is NOT happy. I'm unpaid as of right now. Still gotta pay the rent," the Bay Area resident in exile said.
(The original version of this article in Chinese is written by Chen Du, and first published on GXR, a subsidiary channel by PingWest.)