In recent years, the smart home has evolved from a mere concept to an integral part of our modern way of life. As a result of the rise of IoT, a small device, as small as a water leak sensor or an automated smart thermostat, can now significantly enhance the quality of people's life.
And here, our main character Aqara has recently introduced some cutting-edge innovations, such as Matter support and a brand-new presence sensor, to enhance your smart home regardless of whether you're a novice builder or a seasoned professional.
Aqara is a major Chinese IoT device manufacturer that was once a close link of Chinese smartphone behemoth Xiaomi. However, the company has gone in a different direction from Xiaomi's Mijia smart home alliance and now offers more premium products which are compatible with Apple's HomeKit.
Aqara has sent me four products for review: Presence Sensor FP2, Hub M2, Curtain Driver E1 (Track Version), and Wireless Mini Switch (global version). Each piece features a streamlined, contemporary design that makes it an effortless addition to any interior design.
After a week's experience, here are my major takes and stories with them.
TL; DR:
Fors:
○ Decent and modern design
○ Powerful sensors to trigger automation
○ Stable and responsive (on Apple Home)
○ Easy and user-friendly setup (except for the Presence Sensor FP2)
○ Matter and cross-platform support
Againsts:
○ Less appealing price (Presence Sensor FP2)
○ Need more effort to set up (Presence Sensor FP)
○ Unstable experience with Matter
Easy Setup? Almost Nailed It
First thing first. A user-friendly pairing and setup experience matters a lot for consumers. And all four Aqara devices have an easy procedure to set up with consistency.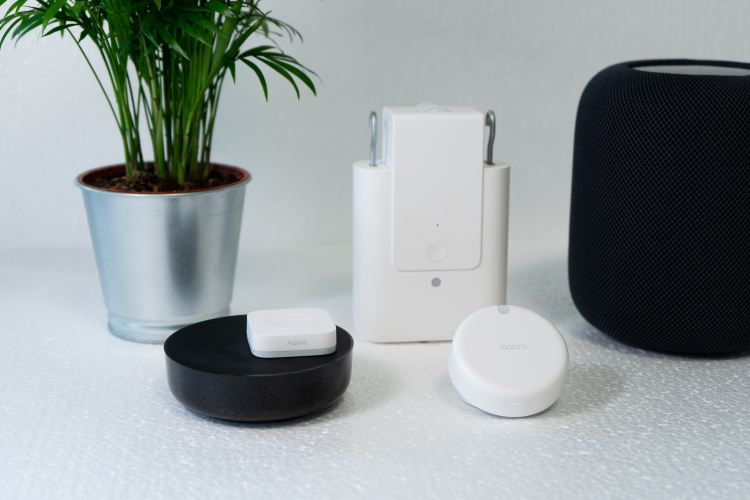 I am mostly in Apple's ecosystem, so I tried to add them to HomeKit via Aqara App first. All devices can be detected and paired by long pressing the round button built on a noticeable part. And it shows a blinking blue light when ready to pair. The app also pulls Apple's Home app to scan QR codes on devices (or in the manual coming with the wrapping box), guiding you to add them to Apple Home too.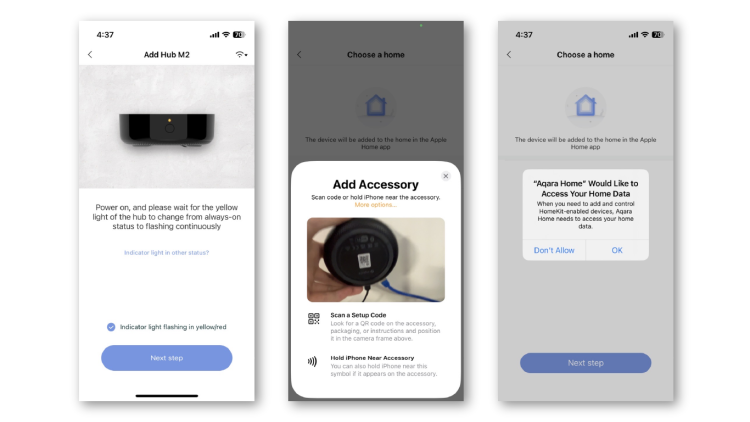 The installation of the curtain driver and sensor requires additional steps. While installing the curtain driver is relatively simple – loosen the hook, hook it up, tighten the hook – it is not recommended to rely solely on its auto-detect function for setting the travel distance. Instead, a manual setup for the starting and ending positions is more reliable.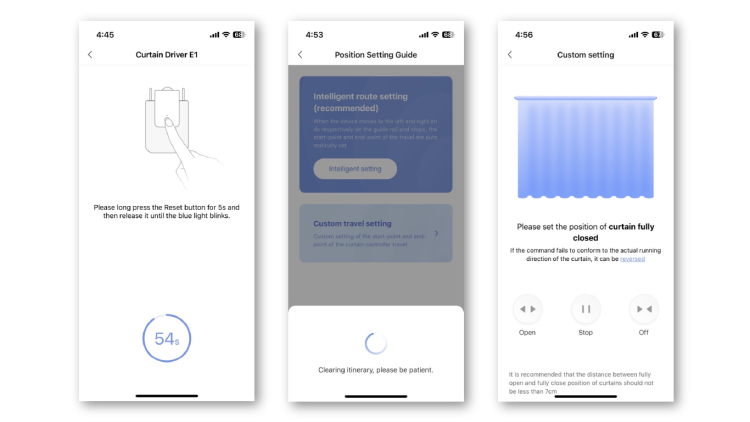 What troubled me most was the sensor. But I totally understand that it needs more effort to work in a delicate and effective manner considering it uses radar to detect humans.
So the first thing is to fix the device somewhere in my room. It offers three installation options. But you must go with the recommended one if you want to have the zone detection feature.
And I tried to determine the optimal location for the device to cover the maximum area possible. The product was designed with an adjustable stand to provide more coverage, and can even be installed upside down for added versatility.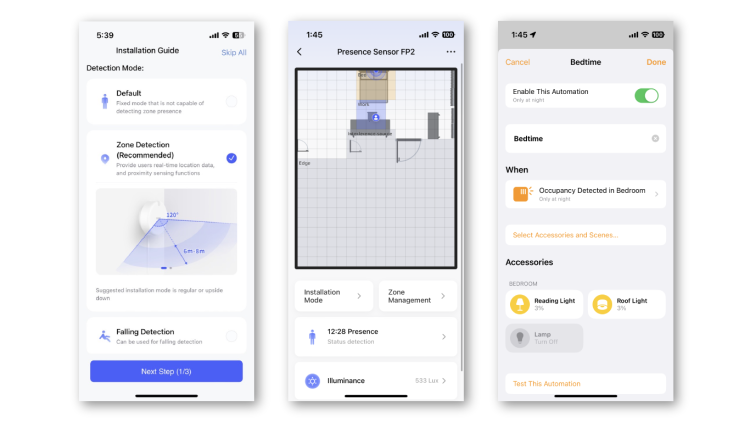 The device also has a magnetic design on the dock, allowing it to attach to metal surfaces. But my metal shelf did not work well obviously, because it somehow caused "ghost detection," which is creepy, knowing there are invisible people in your room.
It has a sticker with a round metal slice to fix the sensor, but please notice that such a sticker could stain your wall surface. Therefore, it's important to ensure that you've found a suitable spot to fix the sensor before proceeding.
In the app, you can follow extra steps to recognize the interference zone and the room edges. If the initial results aren't satisfactory, you may need to consider adjusting the installation spot. You can also use the app to draw zones in your room, such as your bed, desk, and chairs. These zones can then be utilized for automation purposes later on. Finally, don't forget to manually sync the detection zones to Apple Home in the settings.
Presence Sensor Gives Your Home A Life
Smart home automation relies heavily on sensors that can trigger actions based on specific scenes and conditions. And the human sensor is crucial as we are the centre of living life. Aqara's new presence detector is insanely powerful among rivals, by detecting the presence of humans and their position as well as a gesture.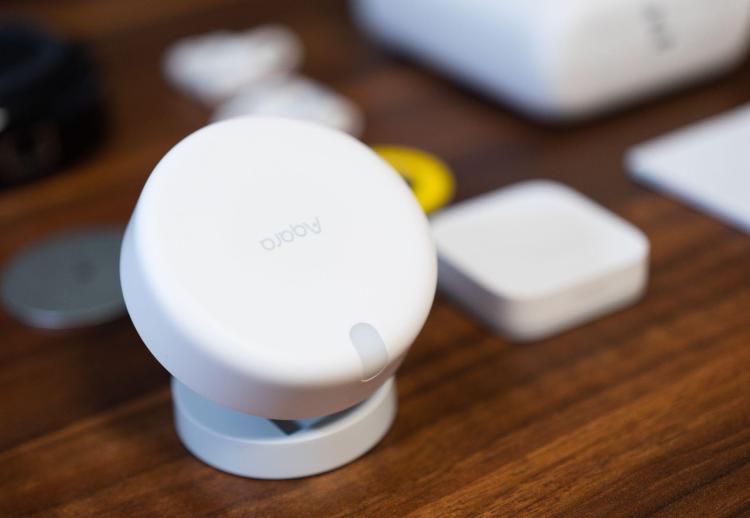 That's an intuitive and easy method to automate different scenes like working at the desk or sleeping in bed. I have set up two major zones for light automation in my apartment. When it detects I am in bed, the Apple Home can shut down other lights, leaving only the bedside lamp on. And when I get out of bed, it will automatically turn on the lights in the room.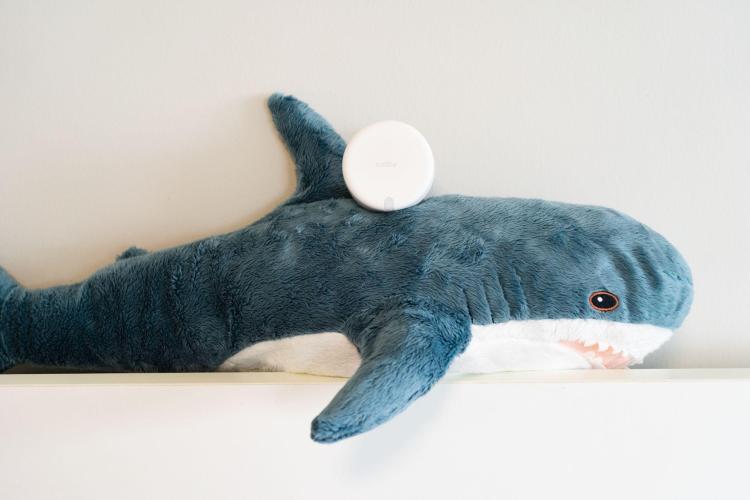 And it works great, fast, and seamless.
With its large detection coverage, the FP2 surpasses traditional sensors that can only detect movement within a limited area. According to Aqara, the sensor can detect human presence and movement in up to 30 zones within a 40 square meter space.
However, even such a premium and pricey device has its limitation – precision and interference.
The zone can only be divided by its 320 "cells," which poses limitations in precision. A cell is roughly sized 0.13 square meters in my room. Such a limitation creates a dilemma – I have to expand a zone to increase misdetection or narrow it to cause miss detection.
Unfortunately, I have a situation where my work area and an interference zone are located close together. This means that I have to narrow the zone. Consequently, I have a lamp that occasionally stops working while I am in the midst of my tasks.
But such an issue can be fixed, if you are willing to adjust the location of your home settings and make some compromises.
The FP2 is designed to detect human presence, which makes it an excellent alarm for detecting unintended break-ins. Apple Home can send notifications when someone is detected in the room. But I won't recommend using that to run "Return Home" or "Leave Home" automation because one tiny misdetection can lead to a series of unexpected things like your HomePod playing music or all light dying off abruptly.
Multi-Platform Support Via Matter
Aqara has dropped an update to enable Matter standards for its Aqara Hub M2, with which, you can easily bridge supported Zigbee sub-devices to major smart home platforms including Apple Home, Google Home, Samsung SmartThings, and Amazon Alex. However, to remotely control these devices through these platforms, you will need a Matter-enabled hub. For instance, if you want to use Google Home to control Matter, you will need a Nest Mini.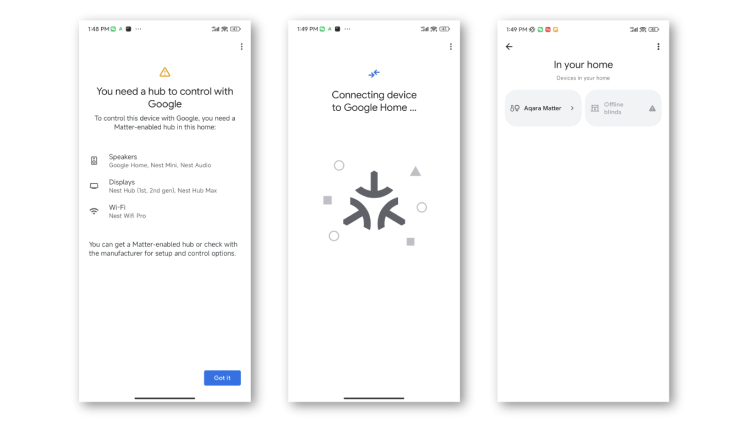 The Matter feature can be found in the Aqara App's settings tab labelled as "beta," warning it's still unstable to use. By toggling on the option, the app will provide a QR Code for you to pair it with. I successfully got it bridged to Google Home (local only without a hub) and Apple Home.
Powered by Matter you can control your devices on the Aqara app and other platforms at the same time, and their status would be updated across these platforms.
However, there are instances where the sub-devices are offline and cannot be controlled through the Matter bridge. As Aqara continues to add its devices to the Matter ecosystem, I am optimistic that its performance will improve. Aqara has recently announced that they now have over 40 Matter-supported products available for Matter.
If your household members have different ecosystems or intend to have different ecosystems, consider using Matter-enabled smart home devices to provide a seamless experience for everyone.
Small Things Bring Happiness
I never thought a small switch could make me happy and it did. While managing devices through my phone or predetermined automation is practical, simply having a small switch in my grasp feels exhilarating.
Powered by a small button battery, the wireless switch is compact and lightweight. It offers three triggers – single, double, and long press, which you can customize with different commands. Personally, I assigned music control to the first two triggers and set the last one to play relaxing white noise such as ocean sounds. And the actual experience with it is quite responsive.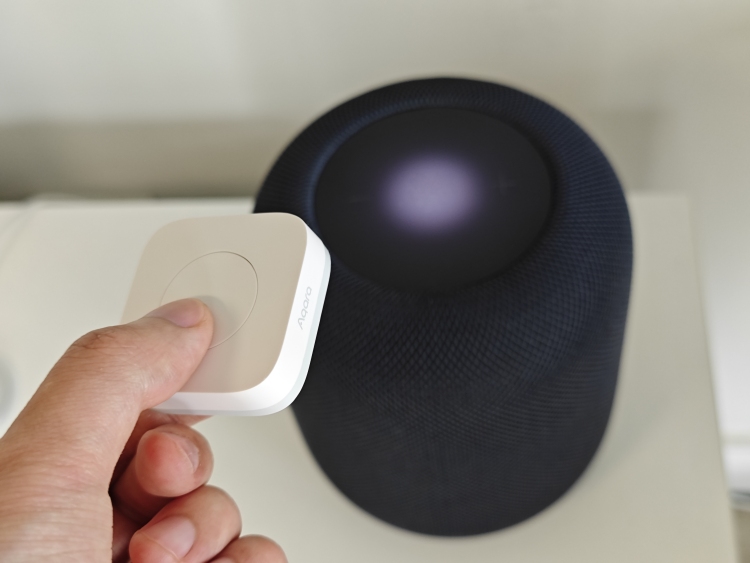 I prefer to take it between my desk and bed. Aqara also offers a sticker if you want to fix it somewhere handy.
One minor issue is that the switch is unable to memorize the status of the devices it controls. For instance, it would have been more convenient if I could play and pause using a single button press instead of allocating separate triggers for each function. The same holds for other devices, including lights and smart outlets. Although there's a workaround by using Apple's shortcut, it requires additional effort, contradicting a fundamental principle of smart homes – convenience.
The curtain driver is also a surprise, it operates smoothly once properly installed. I have set it to open at sunrise and close at sunset. Although it does make a sound while operating, it is not overly noticeable. Additionally, the driver has a built-in light sensor which adjusts the curtains based on the brightness of the room.
The curtain driver runs on a battery, and during the period of my review, I haven't been able to drain it. Aqara claims that a fully charged battery can provide up to one year of battery life.
But such automation ended up saving my home in an unexpected way. On rainy days, small insects similar to white ants made their way out, and they were drawn to the light emanating from uncovered windows during the night. Even when using screen windows or closing the windows themselves, certain types of tiny flies still managed to get inside. Thankfully, I discovered that the best solution was to make use of curtains to block out the light. This is where the Curtain Driver E1 came in helpful.
Conclusion
Aqara's latest innovations are undoubtedly some of the most exciting developments in the smart home market. They also greatly highlight existing products with smarter and more powerful automation across various platforms.
Setting up Aqara devices is mostly easy and user-friendly, delivering a seamless experience for the users.
The new presence sensor FP2 is also insanely powerful, detecting human presence and position with ease. However, the device has some limitations in terms of precision and interference issues. Users need extra effort in installation.
With multi-platform support via Matter, Aqara devices can be controlled across multiple platforms, providing an even more seamless experience. However, it is important to note that the feature is still in beta and may not be entirely stable for use at this time.
And small things from Aqara like the wireless mini switch and the curtain driver can greatly enhance your living quality with minimal effort needed to adjust your current settings.
I would highly recommend these products for both those new to smart homes and those who already own some devices at home. While the Presence Sensor FP2 may come at a higher price point compared to its motion sensor counterparts, it can provide increased automation capabilities, making it a worthwhile investment for those with specific needs.