In China, the Maotai liquor, which is an alcoholic beverage with a fiery flavor made by the state-owned company Kweichow Maotai, is often considered to be a symbol of social status, wealth, fine taste, and sometimes, even corruption. Branded as "China's national liquor", Maotai is to China what Vodka is to Russia and Whiskey is to Scotland. Unfortunately, it has also become one of the go-to items for bribery. Recently, Canon Medical's Shanghai subsidiary was fined 980 thousand yuan for bribing hospitals with Maotai bottles.
Even the company's own employees also can't escape the spell of corruption. According to public records, from May 2019 to June 2020, a total of 11 former and current Maotai executives have been investigated and arrested due to corruption suspicions. These 11 include the former Chairman Nie Yong and the Vice-Chairman of the Kweichow Moutai Group Electronic Commerce Co., Ltd. Xiao Huawei. The two were convicted for "providing unauthorised assistance to others in their applications for Maotai distribution rights and processes of business operation, thereby damaging the marketing environment of the Maotai liquor."
On March 31st, over 2.29 million people entered their application to purchase 1 or more of the Maotai alcoholic beverages on the company's recently launched iMaotai app. Immediately after its release, the app was trending on the top of the IOS free apps chart, and for a good reason – iMaotai doesn't offer a traditional online shopping experience, but rather a lottery-drawing one, as only a few people are randomly selected for the opportunity to actually buy a bottle from the store. On average, tens of thousands of people were competing for the few bottles available in each Maotai shop, and as of April 1st, the buying frenzy is still going strong, with roughly 2.3 million people participating in the fierce competition for a taste of what's considered to be China's liquid gold.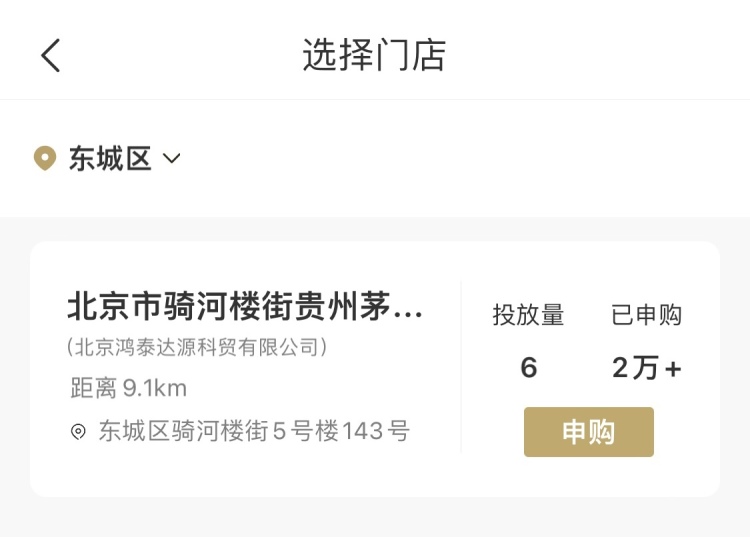 As of March 28th, the e-commerce app is offering four kinds of alcoholic beverages which are priced between 1,188 and 4,599CNY. To curb scalpers, who buy in bulk and resell the products for a personal profit, customers will now need to register with their real names and personal identification number, as well as go through a facial recognition process. One person will only be able to purchase a single Maotai bottle of any kind.
Now, why are millions of people trying to get their hands on Maotai in specific? The answer lies in the hidden value of the beverage. The white porcelain bottles costing thousands are not simply a drink, but are highly valued collectibles as well, whose value tends to rise as time goes. Maotai items are usually sold in limited quantities, and the scarce supply naturally drives the demand up. It is nearly impossible to buy a bottle of Maotai at the recommended retail price due to a huge amount of scalpers and third-party distributors who tend to hoard the products only to resell them at a much higher price.
According to Maotai's 2021 annual financial reports, Kweichow Maotai's direct sales channels reached a revenue of 24.029 billion yuan, which only amounts to 22% of the total revenue the alcohol raked in. In comparison, distributors and wholesale agents had a revenue of 82.03 billion yuan.
A 500ml bottle of Feitian Maotai, one of the company's most popular products, is originally priced at 1,499CNY by the manufacturer, but usually retails at around 2,800 to 3,000CNY. During the Spring Festival holidays in 2021, a bottle of this kind went for as high as 3500CNY.
A quick search on Tmall Mart, a service similar to Amazon Fresh, yields the following result: a 2020 bottle of Feitian Maotai 10th China International Alcoholic Beverages Expo Edition is currently going for 3805CNY per bottle. Under the consumer inquiry section, a user's question asking, "What is the difference between this one and the 1499CNY ones?", was answered by two users who had purchased the product with, "It's exactly the same", and "You can't buy the 1499CNY ones".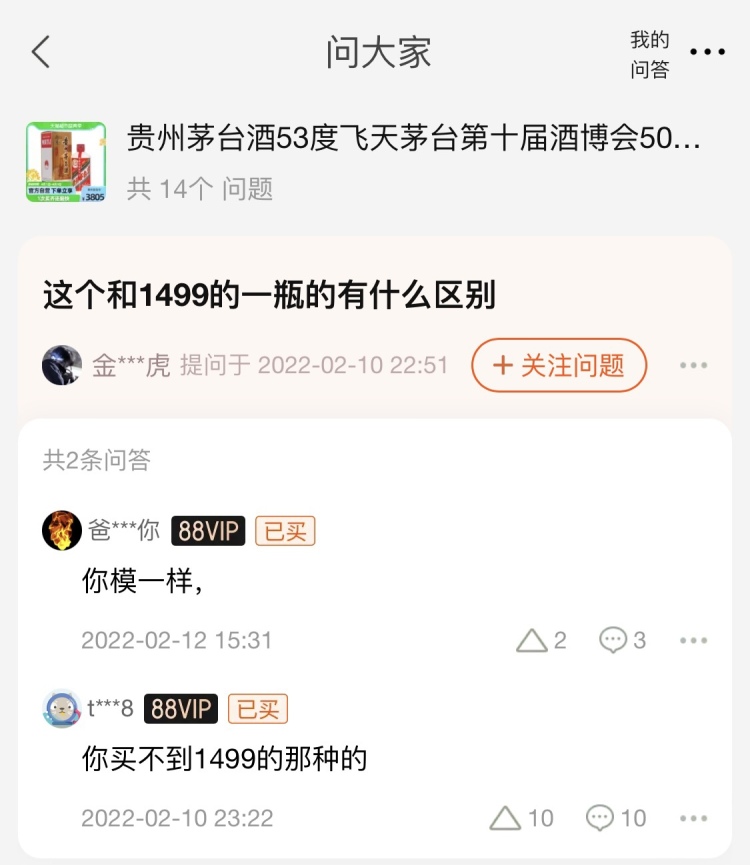 Initially, iMaotai's launch caused panic among distributors and scalpers, as in the past two weeks, the liquor products had all taken a dip in their pricing. According to "Jinrijiujia", a platform tracking the prices of alcoholic beverages, an unboxed bottle of a 2022-made Feitian Maotai had fallen to 2700CNY on March 27 from the previous 3150CNY price on March 1. However, on March 28, after more details about the release were made public, namely that iMaotai would only offer four kinds of Maotai, the prices went back up.
Scalpers are now looking at iMaotai as a new hunting ground. "The most profitable one of the four would be the Tiger Maotai, which is originally priced at 2,499CNY but can retail for about 3,900CNY", said a long-term liquor trader from Guangdong, citing from China's Time Weekly's report. Needless to say, many scalpers are now eyeing the Tiger Maotai on the iMaotai app, and have collected many ID cards to register numerous iMaotai accounts. The trader also revealed that a specific software that can place bulk orders has been developed.
Prior to iMaotai, Kweichow Moutai Group Electronic Commerce Co., Ltd., was the company's first attempt at transitioning its traditional distribution model to one of e-commerce. In 2010, Maotai started building its B2C e-commerce platform and opened an official Tmall store on Taobao in 2013. The company founded its e-commerce company in June 2014, and launched an app called Maotai Yunshang in June 2016.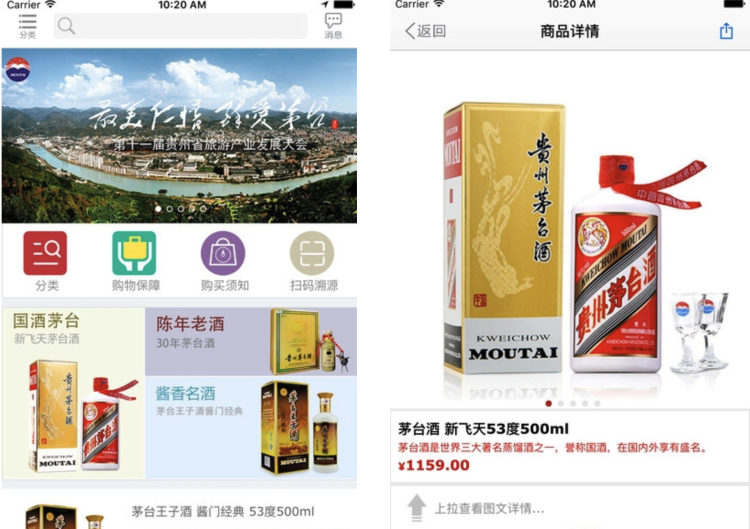 Maotai Yunshang, which roughly translates to Maotai Cloud Commerce, is an app allowing customers to buy Maotai liquor at recommended retail prices from distributors. The app was similar to iMaotai, as it also had limited amounts of alcohol available. However, one could speculate as to why it failed by reading posts in Baidu Tieba, a Reddit-like online forum, where users have complained that the Maotai Yunshang app was "good at first, but turned to shit since no one (from the distributors) would accept orders."
Maotai's e-commerce company, along with the Maotai Yunshang app, were shut down on December 17th, 2019, due to legal and reputation debacles caused by their former outlaw executives.
As the alcohol company is regrouping and launching new plans for its e-commerce business, it aims to take back control of the pricing of Maotai liquors from its distributors, as well as curb the market frenzy and culture of seeing the product as a valuable collectible. Since 2020, Kweichow Maotai has managed to restrict 632 distributors. As a result, in 2021, its revenue from direct sales channels rose by 81.5% from the previous year.
Cover image is from Kweichow Maotai's official website.